Know More About Jio
Best Network
Type of Network:Jio is the only network which offers advanced 4G LTE technology on all its sites. Jio is also the only network in the country which offers VoLTE technology for voice calling on all of its sites.
Width of the Network/ Number of base stations: Jio has approximately 5.32 lakh 4G LTE network base stations and covers more than 95% of India's population. The number of base stations clearly establish that Jio is the widest operator in terms of number of base stations.
Quality of the Network/Speed: TRAI's My Speed application, which is a crowd sourced application testing speed of network and which does not engage with any operator on commercial basis, has consistently reported Jio to be the fastest network operator, since Jio's commencement of services.
Best Network ranking: Jio's contribution in bringing India at the forefront in global ranking has been acknowledged by various officials and dignitaries including recent statement at the Mobile World Congress ("MWC")[1], a prestigious and world renowned industry platform involving participation of various operators across the world, where Jio won 'Best Mobile Operator Service for consumers'.
"Best Entertainment"
Jio offers the best and the widest range of entertainment services as demonstrated below:
Exclusive Content
Jio has been the only TSP to have produced original and exclusive content or procured exclusive rights for JioTV for its subscribers
Content such as

Nidahas Trophy (India, Sri Lanka, Bangladesh Tri-series)
EFL (Carabao Cup) - Arsenal vs Man City finals
Live Events – Justin Beiber, Chain Smokers, Ed Sheeran
Exclusive rights to Pokemon Go in India
Exclusive Features
KBC Play Along
Jio Cricket Play Along
Amitabh Bachchan on World's First Artificial Intelligence based live video call
30 exclusive feed for Nidahas trophy - 5 live camera angles and 6 language
Jio Screenz exclusive partnership in India
Jio Cinema – Movies and more:
Lakhs of videos apart from 6,000+ Movies;
Offers advertisement-free movies, TV shows, music, short clips and is comparable with any other movie content application available on the internet, which does not offer pirated or illegal content.
Enables users to download and watch content offline.
Delivers 1,00,000+ hours of HD content available in all screen sizes;
Provides special features, including voice search, dock player, video quality/ bit-rate selection, syncing across devices, pause-and-play, watch-list creation, etc.
Delivers auto-play functionality when browsing TV shows.
Delivers original content produced and hosted exclusively on Jio Cinema;
Enables users to seamlessly access content from other platforms/channels, including Eros Now, Alt Balaji, Arre, VB, etc.
Compatible with third party casting services.
Jio TV – Television and more:
Provides 575+ TV channels, including 60+ HD channels;
Offers multilingual TV content spread across languages and genres;
Enables Pause-and-play and live play features;
Provides catch-up facility for up to 7 days in various TV channels;
Provides special features, including reminder alerts, dock player, syncing across devices, pause-and-play, etc.
Allows users to share favorite programs on social network;
Offers unique ability to lock-screen to enable disturbance-free viewing.
Enables users to seamlessly access content from other platforms/channels, including Hotstar, etc.
Jio Music – Music and more:
14 million songs on Jio Music alone and 40 Mn songs on Jio Saavn
Offers millions of HD songs spread across genres, moods, artists and languages;
Offers a unique collection of Jio tunes to express user's mood with his/her favorite songs;
Offers seamless connection with wearable, blue tooth, other devices;
Has recently entered into a strategic partnership with SAAVN, another popular online music platform having 40 million songs to offer a combined collection of songs and musical content to users;
Allows user to download and listen to offline music content without any download charges;
Allows creation of play-lists;
Creates and provides radio content spread across languages, artists, moods and genres;
Provides more music content in more than 20 Indian languages and international music.
Allows users to share favorite musical content on social network;
Enables the unique ability to tap-and-play/queue any content.
Jio Cloud – Storage and more:
Free storage of up to 5GB of data.
Allows the user to watch videos and listen to music files without any delay and without downloading them to the device.
Provides easy sharing and storing of files and folders in any smartphone or PC.
Enables features such as automatic backup of files, simple access of files, folder creation for organize such files, syncing contacts across devices etc.
Keeps data safe by remotely logging out when user lose their device.
Jio Xpress News – Local news and more:
Provides customized reading experience in 10+ Indian languages, 15+ interest areas and 500+ publications
Enables users with features including live cricket scores, breaking news notifications, monitor stock market etc.
Users can access the advertisement free news offline in Xpress view mode
Allows the user to save and share articles with their social circle.
Jio Newspaper – Newspaper and more:
250+ newspapers daily.
Allows the user to read news from all leading dailies in more than 10 languages.
Users can save newspapers, auto-download and find articles within the newspapers to clip and save articles of their choice for future viewing.
Enables users with features such as resume reading, easy navigation, tap and view the reader screen etc.
Jio Mags – Magazines, Lifestyle and more:
5000+ magazines.
Offers a vast library with premium and popular magazines and a wide choice in regional content.
Provides instant access to selected magazine articles and is convenient to read on any screen size.
Allows user to highlight, underline, bookmark or let the app read out articles in offline mode.
Enables users with features such as playing of videos, podcasts and presentations along with the articles, sync downloaded magazines across all their devices, set timers to download magazines, auto-delete button, voice search, save and share their reads on social media.
Jio Games – Gaming and more:
Provides users with rich collection of games across genres.
Allows the user to set and check top scores and get featured in the leader board.
Jio Chat – Chatting, calling and more:
Provides users with audio and video calling feature including audio and video conference calls.
Allows the user to create random doodles while chatting and other features of rich communication services.
Provides features such as group chatting, voice notes, 'do not disturb' mode, sharing of files up to 100MB, 1000+ fun stickers etc.
Provides various entertainment and infotainment related channels.
Has recently conducted one of India's largest play-along games on an application.
My Jio – Customer Experience and more:
Offers a user-friendly and intuitive design for customer support and self-care.
Allows user to check balance and validity of recharge plan, link and manage multiple Jio accounts, install and access Jio Apps, buy, store and transfer voucher(s) in digital format etc.
It also provides an option for delivering Jio SIM to users at their doorstep.
Extends help and support to users by providing FAQs, helpful tips and troubleshooting features.
Provides free entertainment and gaming content.
Has recently conducted one of the largest play-along games on an application.
JioHealthHub
Book tests, consult doctors, manage your weight & much more.
Access reports & securely share them with your doctor
In addition to the above applications and services, RJIL also facilitates provision of various other applications, including Jio Switch (rapid media sharing), AJIO (fashion and shopping), Jio Money (mobile wallets and loyalty points) and Jio Security (cyber security) which complement and enable users to experience wholesome and fulfilling entertainment, at all times.
Jio has attained multiple awards globally for content and apps. Attaching one list for the month of February 2018 alone.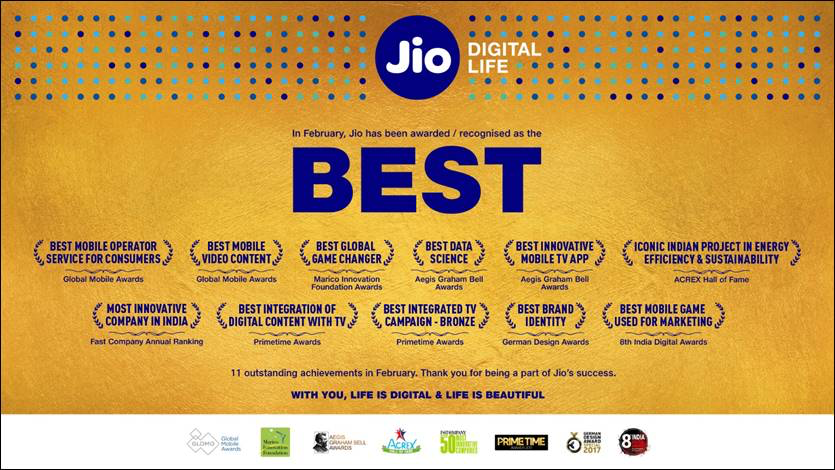 "Best Post-Paid Plan"
RJIL offers 5GB more 4G data at less than half the monthly rental offered by other telecom service providers in India.
Other telecom service providers ("TSPs") offer 20 GB data free at monthly rental of Rs. 389-399 whereas RJIL is offering 25 GB data free with monthly rental of Rs. 199 only.
" World's Largest Mobile Data Network"
Data Usage: Basis the figures reported by various operators to TRAI2, the data usage on Jio's network is not only highest in India but also in the world3.
[1] Click here
[2] Click here
[3] Click here