Smart Electricity Meter
Improve metering system to save on energy consumption
JioThings Smart Electricity Metering solution offers a comprehensive suite of solutions for enabling Advanced Metering Infrastructure (AMI) and Automatic Meter Reading (AMR). India's first and revolutionary NB-IoT enabled smart metering solution enables highly scalable and truly interoperable solutions for AMI/ AMR.
Our offerings include DLMS/ 16444 powered Network Interface Communication (NIC) card that can connect to every smart meter. Pan India NB-IoT connectivity covering 95%+ of census population ensures extensive coverage. Jio also offers MeitY certified Jio Cloud Services for hosting the smart metering applications and a scalable meter data collection using Head End System (HES) integrated with leading Meter Data Management Systems (MDMS).
Block Architecture

Block Architecture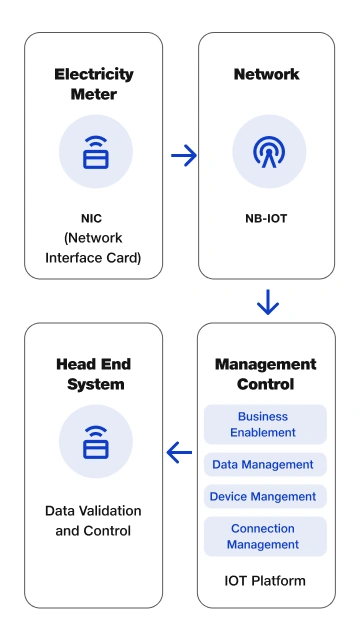 What you get with Smart Electricity Metering
Know how each feature of Smart Electricity Metering will help in transforming your business.
Integrated Solution
A plug and play solution ensuring seamless meter data collection from NIC card to HES (Head End System)
Reliability
NB-IoT ensures 100% meter data collection and is capable of collecting meter data at 15 minute intervals
Low Cost of Ownership
No infrastructure maintenance cost (like in the case of other technologies like LoRa or RF) resulting in low cost of ownership in the long run
Ease of Deployment
Zero touch provisioning allows meters to be configured automatically, eliminating manual labour for setting up the network
Zero Network Maintenance
Network is maintained by Jio, thus no onus on the utility for maintaining it and worry about civil changes affecting communication
Security
NB-IoT allows data to transmit in non-IP format making it impossible for anyone to hack the network
Compatible NIC Card
Jio's NIC card is compatible with all meter-makes (even DLMS) and has modules for integration with any meter designs
Software Upgrades
NB-IoT supports upgrading of meter firmware remotely, thus saving manual costs on field support
24x7 Assisted Care
Ready to service your needs at all times
Jio Advantage
Know how each feature of Smart Electricity Metering will help in transforming your business.
Pan India NB-IoT Connectivity
Jio's NB-IoT network is available Pan India and covers 95%+ census population
Get everything from hardware, connectivity, IoT cloud platform to installation and after sales services
Software application hosted on cloud infrastructure, controls and coordinates the communication networks as well as collects the usage data from the advanced meters in the field
Device and SIM Management
Supports over-the-air software and configuration updates for the device. Get complete control over SIM card remotely. Manage SIM card in real time, API for enterprise and NMS integration
Want a callback?
Please share your details.
We couldn't process your request, please try after some time.
Please enter valid Captcha
Please enter Captcha
OTP limit exceeded
You've reached the maximum OTP limit for one day. Please try again after 14:47 mins.
Still have questions?
Find answers to some of the commonly asked questions by our JioBusiness customers.
Tell us about your visit
Please select the emoji that best describes your experience here.
Thank You
Were you able to complete your main purpose for your visit?
How can we improve our experience?