5G in Mining Industry
5G Mining:Z000300009
5G for Mining
Mining is a high-risk job and the health and safety of miners is top priority of any mining company. Due to the nature of the work involved, safety has proved to be challenging at mining sites over the ages. However, with the 5G era upon us, the mining industry can experience significant advances in not just the wellbeing of its workers but also in convenience and productivity. 5G-enabled IoT networked with smart sensors is already transforming how mining is carried out in various sites around the world.
5G powered mining use cases 
Autonomous Vehicles: Mining with 5G Technology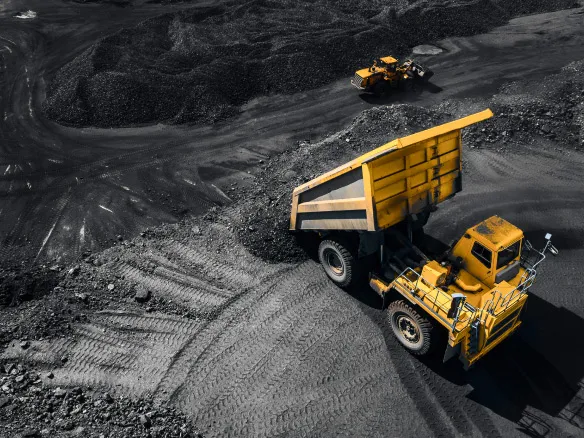 Autonomous vehicles
5G has brought to life, the benefits of deploying unmanned vehicles at mining sites. Use of autonomous vehicles are possible only because of the low latency and high throughput of 5G networks. This allows for vehicles to be monitored and controlled remotely in real-time. At unstable sites where there is a likelihood of cave-ins, no lives are endangered even if an accident were to occur. Multiple cameras at the mining site use 5G network to relay large amounts of data in real-time allowing for quick adjustments to be made when required. Smart sensors on vehicles enable avoiding obstacles and course-correct.
Worker Safety in Mines: 5G Machinery is Making a Difference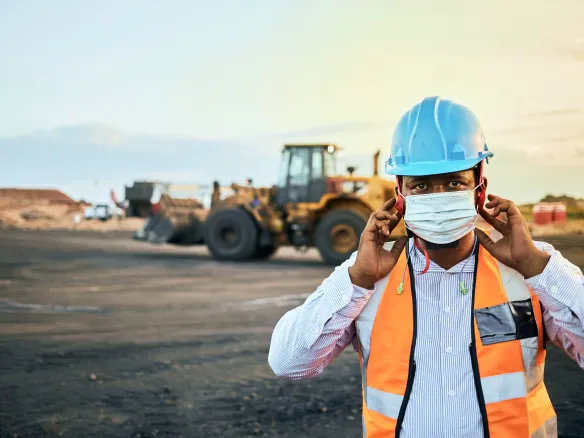 Worker safety
Along with autonomous vehicles, smart mines vastly contribute to the safety and health of mine workers. Having 5G-powered machinery take over a lot of the manual task means that miners don't have to be on location unless absolutely necessary. This reduces the risk of exposure to extreme weather conditions, toxic substances, and high-risk jobs that could cause serious injury. 5G-powered mining probes can analyze new underground mining sites for various factors like air quality, structural integrity, ease of mining the ore and so on before humans enter the mining shaft. Furthermore, miners can be given wearables that can monitor their vital signs while working underground. The information can be transmitted to a site office and can alert the team if any worker is in physical distress. High throughput and low latency associated with 5G network, enables all this for the mining industry.
Productivity and Precision with 5G Smart Sensors and AI in Mining
Productivity and precision
Bore machines used in the mines can be automated using 5G technology which can increase operating hours to up to 2,000 hours a year! Furthermore, 5G-enabled smart sensors and cameras within mines can allow maintenance staff to constantly monitor mine conditions via digital display. AI is used to analyze the data being transmitted from the mines so that anomalies can be highlighted and action can be taken at the earliest. This helps prevent accidents that could occur if the problem was left undetected. Metrics like temperature, fluid levels and conductivity can all be monitored this way. Radar data obtained from 5G-powered drones can be used in mapping of subsurface and open pit mines. This data can prove crucial in identifying not just mining opportunities but also potential hazards.
5G Mining Probes: Analyzing New Underground Sites for Safety and Efficiency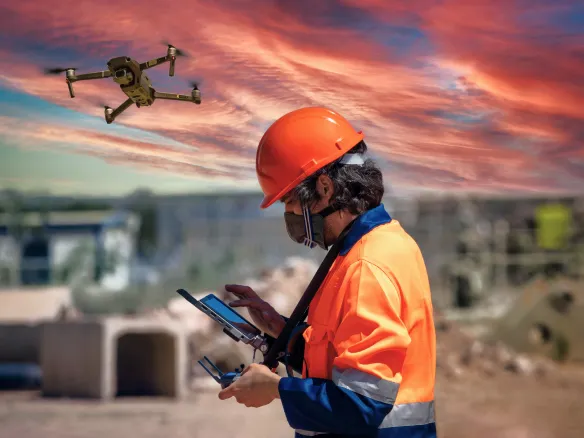 Security and surveillance
5G can play an important role in the security and surveillance of mines and the mining industry. All equipment that has to be left in the open at a mining site can be fitted with 5G-connected sensors that instantly detect unauthorized use and send out alerts to the control center. AI can also be programmed to lock down equipment if any unauthorized use is detected thereby preventing theft. All data transmitted on the 5G network is highly encrypted, this provides invaluable security to mining companies that need to protect the vast amount of information that regularly flows between the mining site, control centers, and offices.
Select countries (max. 10)
Insightful resources
Learn more on 5G technology through case studies, whitepapers and latest updates.
Insightful resources
Learn more on 5G technology through case studies, whitepapers and latest updates.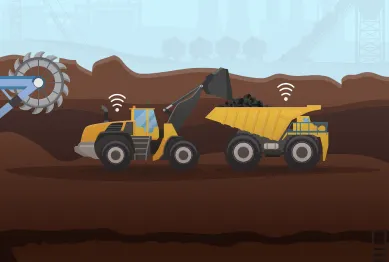 Want a callback?
Please share your details.
We couldn't process your request, please try after some time.
Please enter valid Captcha
Please enter Captcha
OTP limit exceeded
You've reached the maximum OTP limit for one day. Please try again after 14:47 mins.