Smart Street Lighting
Intelligent lighting infrastructure for energy optimization
JioThings Smart Street Lighting solution is a cost-effective and sustainable choice as it is a one-stop-shop solution and provides all the components for building an intelligent lighting infrastructure. Our solution helps in energy savings, fault detection and usage analysis. The solution components include NB-IoT enabled communication modules that integrate with LED drivers and retrofit luminaires.
Modules are compatible with leading OEMs. Feeder controllers (Remote Terminal Units – RTU) are also available for more granular control. Pan India NB-IoT connectivity covering 95%+ of census population ensures extensive coverage. With insightful dashboards one can monitor and manage all connected street lights for a summarized status, map-views and analysis using Cloud infrastructure.
Block Architecture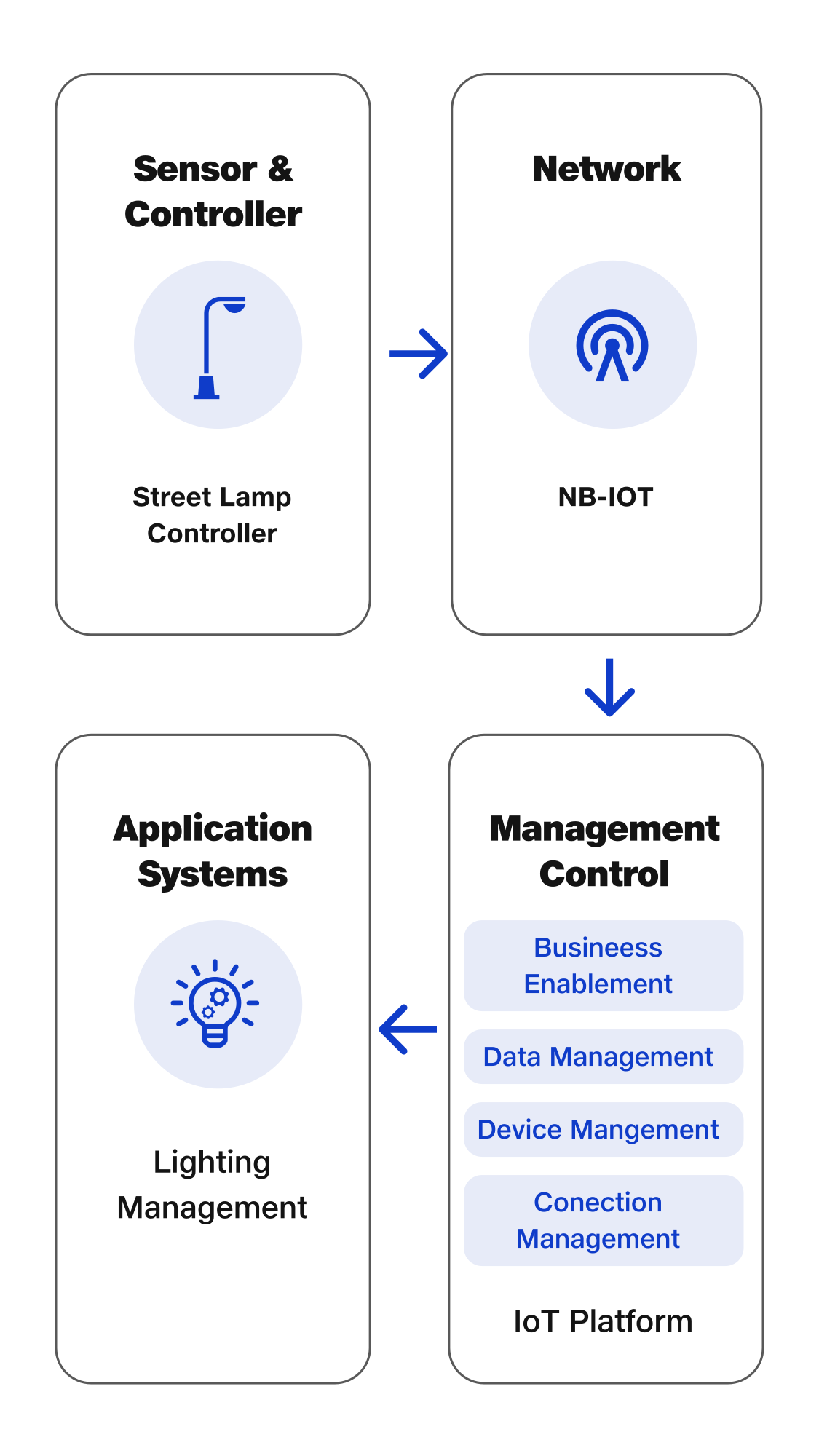 Block Architecture
What you get with Smart Street Lighting
Know how each feature of Smart Street Lighting will help in transforming your business.
Energy Saving
Save up to 25% with intelligent ON/ OFF switching, targeted progressive dimming and efficient management of consumption
Maintenance Cost Optimization
Get notifications for any malfunction with possible defect analysis – helps in exact pole identification reducing time and travel costs
Increased Lamp Life
Increased lamp life by optimizing the lamp burning hours
Increased Road Safety
With no dark spots, safety of pedestrians and drivers is increased. Adequate lighting at strategic locations helps curb accidents
Enhanced User Experience
Efficient workflow management provides map-views for quick and easy resolutions with accurate data and intuitive user interface
Light Planner
Event based lighting and advanced schedules, variable night illumination (dimming) allow the light intensity to be modulated according to the street location, time and environment
Control Group of Lights Independently
This helps manage electric cabinet i.e feeder panel by providing features such as lamp switching based on in-built astronomical-clock, energy metering and notifications
Reporting and Analytics
Track lighting performance, status, energy consumption and savings. Also, understand the trends and reduce energy losses
Cleaner Environment
By reducing energy consumption, the amount of released CO2 is reduced thus reducing carbon footprint
24x7 Assisted Care
Ready to service your needs at all times
Jio Advantage
Diversified advantages that Smart Street Lighting brings to your business.
Pan India NB-IoT Connectivity
Jio's NB-IoT network is available Pan India and covers 95%+ census population
Get everything from hardware, connectivity, IoT cloud platform to installation and after sales services
Device and SIM Management
Supports over-the-air software and configuration updates for the device. Manage SIM card in real time, API for enterprise and NMS integration
Want a callback?
Please share your details.
We couldn't process your request, please try after some time.
Please enter valid Captcha
Please enter Captcha
OTP limit exceeded
You've reached the maximum OTP limit for one day. Please try again after 14:47 mins.
Still have questions?
Find answers to some of the commonly asked questions by our JioBusiness customers.
You might also like to explore
Here are some of our popular JioBusiness services to accelerate business growth.
Tell us about your visit
Please select the emoji that best describes your experience here.
Thank You
Were you able to complete your main purpose for your visit?
How can we improve our experience?